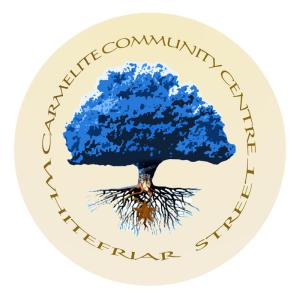 A very important part of the work at Whitefriar Street is the Carmelite Community Centre. Part of the old complex adjoining the primary school was destroyed by a malicious fire in 1995. This old building housed classrooms and a hall which saw many Feis competitions take place over the years as well as so many other much needed services. When the building was destroyed a huge void was left in the area. Rather than rebuild immediately, the Carmelite Community took a very careful look at the needs of the area and at what sort of services they could offer the local people. They also consulted widely with those who would benefit from a new building and found out what exactly they wanted and also what sort of rooms and facilities they would like to see in the building. The building also moved to a new part of the site so that it could have an entrance onto Aungier Street and bring it closer to the heart of the existing buildings. In May 1999, President McAleese officially opened the new centre to much acclaim.



A holistic Community centre with christian ideals , rooted in the Carmelite Tradition, where: All who come , and especially members of the local community are made welcome and can find and expect friendship, respect and encouragement.Development of body , mind and spirit in a safe and supportive environment. Creativity and imagination are stimulated and facilitated.The needs of people are listened to, discerned , evaluated and where possible, served,
Care is taken to cater for people of all ages, gender, faith, culture, sexual orientation.